Markus left the group at the very beginning of 2017 to take up a designated professorship at Nagoya university in Japan. His ResearchGate profile is here for more up to date information on his work.
Light onto the black art of semiconductor nanostructure formation
From 1989 I studied basic physics at the technical university of berlin. In 1995 I obtained my Diploma at Prof. Richter's Group about Growth and Passivation of III-V-Semiconductors. The group was the leading group to built and use Reflectance Anisotroy Spectroscopy (RAS) to study classical III-V semiconductor growth in metal-organic vapor phase epitaxy, the workhorse of III-V semiconductor nanostructure growth. I did my PhD also in the same group in 2000.
The in-situ monitoring was quite successful and led to the foundation of the company LayTec which is thriving today. Not least because nitride semiconductor growth requires good in-situ monitoring for success.
In 2000 just after I got my PhD, I did not join LayTec but I went to Tsukuba, Japan. There I worked as a Postdoc at the National Institute for Materials Science on in-situ characterisation with RAS but also with in-situ Scanning Tunneling Microscopy (STM). The latter allows in principle to follow single atoms on the surface. Back in Berlin, after a short stay at the Ferdinand-Braun-Institut für Höchstfrequenztechnik I joined again the TU Berlin where I led the MOVPE activities.
New materials such as InN and novel ferromagnetic semiconductors like InAsP:Mn with a tailorable Mn acceptor depth were investigated, with the main focus on the growth process. A very special result was the first and only in-situ STM for MOVPE. This is up to date the only STM worldwide that can operate at 700°C near atmospheric pressure. Other innovative tools were the only multi-channel RAS setup for semiconductor epitaxy, and three spectroscopic ellipsometers for during growth studies.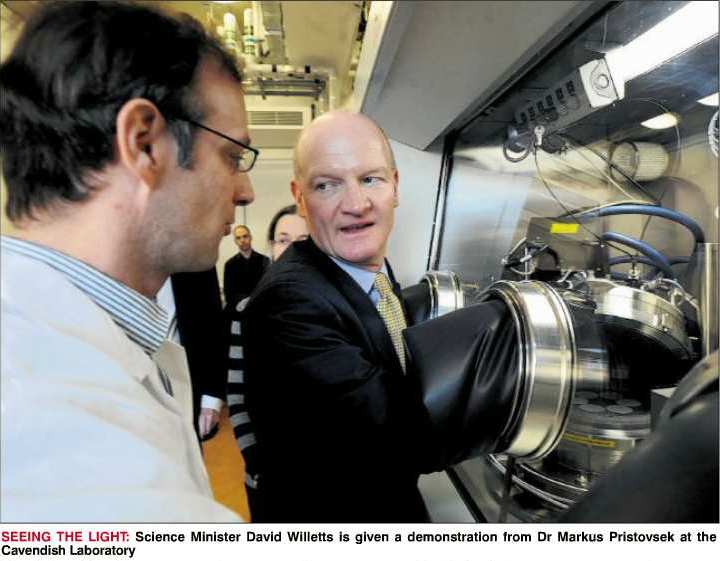 In recent years the growth of nitrides for solid state lightning, laser diodes, and ultra-violett diodes for water purification became challenging not only from an academic point of view but with a several billion heavy industrial perspective. Thus now even politicians come to start up a new MOVPE lab: The photo on top shows me with the Science Minister David Willets at the opening of the new 6×2 reactor, which we hosted at the Cavendish laboratory and has been recently moved to Materials Science.
Consequently large efforts are devoted worldwide into research of nitride semiconductor growth and device development. All this relies on nanostructures inside the current devices which are typically less than 10 atoms in height. Therefore understanding and ultimatively controlling of surfaces and interfaces is needed now more than ever.
Key publications:
Book chapter and thesis
In-situ monitoring towards monolayer precision for III-V semiconductor growth
M. Pristovsek
Habilitation, Technische Universität Berlin (2012)
Semiconductor Nanostructures
M. Pristovsek, W. Richter
(Springer, Berlin-Heidelberg-New York, 2008) Chapter 3, 67–86
Fundamental Growth Processes on Different Gallium Arsenide Surfaces in Metal-Organic Vapor Phase Epitaxy
M. Pristovsek
Ph.D. thesis, Technische Universität Berlin (2000)
Publications (w/o proceedings)
What limits the efficiency of long wavelength (0001) InGaN based light emitting diodes?
M. Pristovsek, A. Bao, R. A. Oliver, T. Badcock, M. Ali, A. Shields
ACS Photonics (submitted)
Surface transitions of (0001) AlN during metal-organic vapour phase epitaxy
M. Pristovsek, K. Bellman, F. Mehnke, J. Stellmach, T. Wernicke, M. Kneissl
pss (b). (submitted)
Radiative recombination mechanisms in polar and non-polar InGaN/GaN quantum well LED structures
T. J. Badcock, M. Ali, T. Zhu, M. Pristovsek, R. A. Oliver, A. J. Shields
Appl. Phys. Lett. 109(2016) 151110
Determination of axial and lateral exciton diffusion length in GaN by cathodoluminescence
M. Hocker, P. Maier, L. Jerg, I. Tischer, G. Neusser, C. Kranz, M. Pristovsek, C. J. Humphreys, R. A. R. Leute, D. Heinz, O. Rettig, F. Scholz, K. Thonke
J. Appl. Phys. 120 (2016) 085703
Deoxidation of (001) III-V semiconductors in metal-organic vapour phase epitaxy
Ch. Kaspari, M. Pristovsek, W. Richter†
J. Appl. Phys. 120 (2016) 085701
The impact of the surface on step-bunching and diffusion of Ga on GaAs (001) in metal-organic vapor phase epitaxy
M. Pristovsek, F. Poser, W. Richter†
Mat. Res. Express 3 (2016) 075902
Structural and optical properties of (11-22) InGaN quantum wells compared to (0001) and (11-20)
M. Pristovsek, Y. Han, T. Zhu, F. Oehler, F. Tang, R. A. Oliver, C. J. Humphreys, D. Tytko, P.-P. Choi, D. Raabe, F. Brunner, M. Weyers
Semicond. Sci. Technol. 31 (2016) 085007
Development of semipolar (11-22) LEDs on GaN templates
B. Corbett, Z. Quan, D. V. Dinh, G. Kozlowski, D. O'Mahony, M. Akhter, S. Schulz, P. Parbrook, P. Maaskant, M. Caliebe, M. Hocker, K. Thonke, F. Scholz, M. Pristovsek, Y. Han, C. J. Humphreys, F. Brunner, M. Weyers, T. M. Meyer, L. Lymperakis
Proc. SPIE 9768 (2016) 97681G
Towards defect free semi-polar GaN templates on pre-structured sapphire
Y. Han, M. Caliebe, F. Hage, Q. Ramasse, M. Pristovsek, T. Zhu, F. Scholz, C. J. Humphreys phys. stat. sol. (b) 253 (2016) 834-839
Comparative study of (0001) and (11-22) InGaN based light emitting diodes
M. Pristovsek, C. J. Humphreys, S. Bauer, M. Knab, K. Thonke, G. Kozlowski, D. O'Mahony, P. Maaskant, B. Corbett
Jap. J. Appl. Phys. 55 (2016) 05FJ10
MOVPE growth and indium incorporation of polar, semipolar (11-22) and (20-21) InGaN
D. V. Dinh, M. Pristovsek, M. Kneissl
phys. stat. sol. (b) 253 (2016) 93-98
Optimizing GaN (11-22) hetero-epitaxial templates grown on (10-10) sapphire
M. Pristovsek, M. Frentrup, Y. Han, C. J. Humphreys
phys. stat. sol. (b) 253 (2016) 61-66
Effect of heterostructure design on carrier injection and emission characteristics of 295 nm light emitting diodes
F. Mehnke, C. Kuhn, J. Stellmach, T. Kolbe, N. Lobo-Ploch, J. Rass, M.-A. Rothe, C. Reich, N. Ledentsov, M. Pristovsek, T. Wernicke, M. Kneissl
J. Appl. Phys. 117 (2015) 195704
Origin of faceted surface hillocks on semi-polar (11-22) GaN templates grown on pre-structured sapphire
Y. Han, M. Caliebe, M. Kappers, F. Scholz, M. Pristovsek, C. Humphreys
J Crystal Growth 415 (2015) 710-715
Low defect large area semi-polar (11-22) GaN grown on patterned (113) silicon
Markus Pristovsek, Yisong Han, Tongtong Zhu, Martin Frentrup, Menno J. Kappers, Colin J. Humphreys, Grzegorz Kozlowski, Pleun Maaskant, Brian Corbett
phys. stat. sol. (b) 252 (2015) 710-715
Surface and crystal structure of nitridated sapphire substrates and their effect on polar InN layers
D. Skuridina, D. V. Dinh, M. Pristovsek, B. Lacroix, M.-P. Chauvat, P. Ruterana, M. Kneissl, P. Vogt
Appl. Surf. Sci. 307 (2014) 461-467
Wavelength limits for InGaN quantum wells on GaN
M. Pristovsek
Appl. Phys. Lett. 102 (2013) 242105
Polarity determination of polar and semipolar (11-22) InN and GaN by valence band photoemission spectroscopy
D. Skuridina, Duc V. Dinh, M. Pristovsek, M. Kneissl, P. Vogt, B. Lacroix, P. Ruterana, M. Hoffman, Z. Sitar
J. Appl. Phys. 114 (2013) 173503
Role of nitridation on polarity and growth of InN by metal-organic vapor phase epitaxy
Duc V. Dinh, D. Skuridina, S. Solopow, M. Pristovsek, P. Vogt, M. Kneissl
J. Crystal Growth 376 (2013) 17-22
Surface transitions during InGaN growth on GaN (0001) in metal-organic vapour phase epitaxy
M. Pristovsek, A. Kadir, M. Kneissl
Jap. J. Appl. Phys. 52 (2013) 08JB23
Evolution of Indium Rich InGaN Layers During Direct Growth on Nitridated Sapphire in Metal-Organic Vapor Phase Epitaxy
Duc V. Dinh, S. Solopow, M. Pristovsek, M. Kneissl
Jap. J. Appl. Phys. 52 (2013) 08JD03
Growth mode transition and relaxation of thin InGaN layers on GaN (0001)
M. Pristovsek, A. Kadir, C. Meissner, T. Schwaner, M. Leyer, J. Stellmach, M. Kneissl, F. Ivaldi, S. Kret
J. Crystal Growth 372 (2013) 65-72
Energetics of InGaAs quantum dot formation and relaxation on GaAs (001)
M. Pristovsek, R. Kremzow, M. Kneissl
Jap. J. Appl. Phys. 52 (2013) 041201
Structural and optical properties of semipolar (11-22) AlGaN grown on (10-10) sapphire by metal-organic vapour phase epitaxy
J. Stellmach, F, Mehnke, M. Frentrup, C. Reich, J. Schlegel, M. Pristovsek, T. Wernicke, M. Kneissl
J. Crystal Growth 367 (2013) 42-47
Indium incorporation efficiency and critical layer thickness in (20-21) InGaN on GaN
S. Ploch, T. Wernicke, M. Frentrup, M. Pristovsek, M. Weyers, M. Kneissl
Appl. Phys. Lett. 101 (2012) 202102
Influence of group III and group V partial pressures on the size and density of InGaN quantum dots in MOVPE
A. Kadir, K. Bellmann, T. Simoneit, M. Pristovsek, M. Kneissl
phys. stat. sol. (a) 209(12) (2012) 2487-2491
Topography of (20-21) AlGaN, GaN and InGaN layers grown by metal-organic vapor phase epitaxy
S. Ploch, T. Wernicke, J. Thalmair, M. Lohr, M. Pristovsek, M. Weyers, J. Zweck, M. Kneissl
J. Crystal Growth 356 (2012) 70-74
MOVPE growth of semipolar (11-22) AlN on (10-10) sapphire
J. Stellmach, M. Frentrup, F. Mehnke, M. Pristovsek, T. Wernicke, M. Kneissl
J. Crystal Growth 335 (2012) 59-62
Growth and Characterizations of Semipolar (11-22) InN
Duc V. Dinh, D. Skuridina, S. Solopow, M. Frentrup, M. Pristovsek, P. Vogt, M. Kneissl, F. Ivaldi, S. Kret, A. Szczepanska
J. Appl. Phys. 112 (2012) 013530
In situ access to the dielectric anisotropy of buried III-V/Si(100) heterointerfaces
Oliver Supplie, Thomas Hannappel, Markus Pristovsek, Hennig Döscher
Phys. Rev. B 86 (2012) 035308
Surface diffusion and layer morphology of (11-22) GaN grown by metal-organic vapor phase epitaxy
S. Ploch, T. Wernicke, D. V. Dinh, M. Pristovsek, M. Kneissl
J. Appl. Phys. 111 (2012) 033526
Comparison study of N- and In-polar {0001} InN layers grown by MOVPE
Duc V. Dinh, M. Pristovsek, S. Solopow, D. Skuridina, M. Kneissl
phys. stat. sol. (c) 9(3-4) (2012) 977-981
Surface transition induced island formation on thin strained InGaN layers on GaN (0001) in metal-organic vapour phase epitaxy
M. Pristovsek, A. Kadir, C. Meissner, T. Schwaner, M. Leyer, M. Kneissl
J. Appl. Phys. 110 (2011) 073527
Growth mechanism of InGaN quantum dots during metalorganic vapour phase epitaxy
A. Kadir, C. Meissner, T. Schwaner, M. Pristovsek, M. Kneissl
J Crystal Growth 314 (2011) 40–45
Single phase 11-22 GaN on (10-10) sapphire grown by metal-organic vapor phase epitaxy
S. Ploch, J. B. Park, J. Stellmach, T. Schwaner, M. Frentrup, T. Niermann, T. Wernicke, M. Pristovsek, M. Lehmann, M. Kneissl
J Crystal Growth 331 (2011) 25–28
Growth Mechanism of Embedded Self-Organized InN Quantum Dots on GaN (0001) in MOVPE
F. Ivaldi, J. Domagala, S. Kret, C. Meissner, M. Pristovsek, M. Högele, M. Kneissl
Jap. J. Appl Phys. 50 (2011) 031004
Crystal orientation of GaN layers on (10-10) Sapphire
M. Frentrup, S. Ploch, M. Pristovsek, M. Kneissl
phys. stat. sol. (b) 248 (3) (2011) 583–587
High aluminium content and high growth rates of AlGaN in a close-coupled showerhead MOVPE reactor
J. Stellmach, M. Pristovsek, Ö. Savaş, J. Schlegel, E. Y. Yakovlev, M. Kneissl
J. Crystal Growth 315 (2011) 229–232
Determination of the complex linear electro-optic coefficient of GaAs and InP
M. Pristovsek
phys. stat. sol. (b) 247 (2010) 1974–1978
Orientation control of GaN 11-22 and 10-13 grown on (10-10) sapphire by metal-organic vapor phase epitaxy
S. Ploch, M. Frentrup, T. Wernicke, M. Pristovsek, M. Weyers, M. Kneissl
J. Crystal Growth 312 (2010) 2171–2174
Growth of semipolar (10-1-3) InN on m-plane sapphire using metal-organic vapor phase epitaxy
D. V. Dinh, M. Pristovsek, R. Kremzow, M. Kneissl
phys. stats. sol. RRL 4 (2010) 127–129
Metalorganic Vapor Phase Epitaxy of InN on GaN using tertiary-butylhydrazine as Nitrogen Source
R. Kremzow, M. Pristovsek, J. Stellmach, . Savas, M. Kneissl
J. Crystal Growth 312 (2010) 1983–1985
Shape of InN nanostructures on GaN (001)
S. Ploch, C. Meißner, M. Pristovsek, M. Kneissl
phys. stat. sol. (c) 6(S2) (2009) S574–S577
Growth mode of InGaN on GaN (0001) in MOVPE
M. Pristovsek, J. Stellmach, M. Leyer, M. Kneissl
phys. stat. sol. (c) 6(S2) (2009) S565–S569
Volmer-Weber growth mode on InN quantum dots on GaN (0001) by MOVPE
C. Meißner, S.Ploch, M. Pristovsek, M. Kneissl
phys. stat. sol. (c) 6(S2) (2009) S545–S548
Growth and characterisation of manganese doped InAsP
M. Pristovsek, C. Meißner, M. Kneissl, R. Jakomin, S. Vantaggio, L. Tarricone
J. Crystal Growth 310 (2008) 5028–5031
Indium nitride quantum dot growth modes in metalorganic vapour phase epitaxy
C. Meissner, S. Ploch, M. Leyer, M. Pristovsek, M. Kneissl
J. Crystal Growth 310 (2008) 4959–4962
The critical thickness of InGaN on (0001) GaN
M. Leyer, J. Stellmach, C. Meissner, M. Pristovsek, M. Kneissl
J. Crystal Growth 310 (2008) 4913–4915
Ripening of InAs quantum dots on GaAs (0 0 1) investigated with in situ scanning tunneling microscopy in metal-organic vapor phase epitaxy
R. Kremzow, M. Pristovsek, M. Kneissl
J. Crystal Growth 310 (2008) 4751–5753
Properties of InMnP (0 0 1) grown by MOVPE
M. Pristovsek, A. Philippou, B. Rähmer, W. Richter
J. Crystal Growth 310 (2008) 4046–4049
Segregation and desorption of antimony in InP in MOVPE
S. Weeke, M. Leyer, M. Pristovsek, F. Brunner, W. Richter
J. Crystal Growth 298 (2007) 159–162
Homoepitaxial growth rate measurement using in-situ Reflectance Anisotropy Spectroscopy
C. Kaspari, M. Pristovsek, W. Richter
J. Crystal Growth 298 (2007) 46–49
in-situ Scanning Tunnelling Microscopy during Metal-Organic Vapour Phase Epitaxy
M. Pristovsek, B. Rähmer, M. Breusig, R. Kremzow, W. Richter
J. Crystal Growth 298 (2007) 8–11
Modified STM images growth inside an MOCVD chamber
M. Pristovsek
compound semiconductor 11 (2006) 14–16
In-situ Scanning Tunneling Microscopy during Metal-organic Vapour Phase Epitaxy
B. Rähmer, M. Pristovsek, M. Breusing, R. Kremzow, W. Richter
Appl. Phys. Lett. 89(6) (2006) 063108
InN growth on sapphire using different nitridation procedures
M. Drago, C. Werner, M. Pristovsek, U. W. Pohl, W. Richter
phys. stat. sol. (a) 203 (2006) 1622–1625
Development of InN metalorganic vapor phase epitaxy using in-situ spectroscopic ellipsometry
M. Drago, C. Werner, M. Pristovsek, U. W. Pohl, W. Richter
Crys. Res. Technol. 40(10-11) (2005) 993–996
A fast reflectance anisotropy spectrometer for in situ growth monitoring
C. Kaspari, M. Pristovsek, W. Richter
phys. stat. sol. (b) 242(13) (2005) 2561–2569
Growth of strained GaAsSb layers on GaAs (001) in MOVPE
M. Pristovsek, M. Zorn, U. Zeimer, M. Weyers
J. Crystal Growth 276 (2005) 347–353
InN Growth and Annealing Investigations using in-situ Spectroscopic Ellipsometry
M. Drago, T. Schmidtling, C. Werner, M. Pristovsek, U. Pohl, W. Richter
J. Crystal Growth 272 (2004) 87–93
Nitrogen.arsenic exchange processes and investigation of the nitrided GaAs surfaces in MOVPE
V. Hoffmann, F. Poser, C. Kaspari, S. Weeke, M. Pristovsek, W. Richter
J. Crystal Growth 272 (2004) 30–36
Structural analysis by reflectance anisotropy spectroscopy: As and Sb on GaAs(110)
O. Pulci, K. Fleischer, M. Pristovsek, S. Tsukamoto, R. D. Sole, W. Richter
J. Phys.: Cond. Matter 16 (2004) S4367–S4374
In-situ study of low-temperature growth and Mn and Si and Sn doping of GaAs (001) in molecular beam epitaxy
M. Pristovsek, S. Tsukamoto
J. Crystal Growth 265 (2004) 425–433
Lateral short range ordering of step bunches in InGaAs/GaAs superlattices
M. Hanke, M. Schmidbauer, R. Kühler, H. Kirmse, M. Pristovsek
J. Appl. Phys. 95(4) (2004) 1736–1739
In-situ study of GaAs growth mechanisms using tri-methyl gallium and tri-ethyl gallium precursors in MOVPE
M. Pristovsek, M. Zorn, M. Weyers
J. Crystal Growth 262 (2004) 78–83
Gallium-rich reconstructions on GaAs(001)
M. Pristovsek, S. Tsukamoto, A. Ohtake, N. Koguchi, B. G. Orr, W. G. Schmidt, J. Bernholc
phys. stat. sol. b 240 (2003) 91–98
In situ scanning tunneling microscopy of InAs quantum dots on GaAs(0 0 1) during molecular beam epitaxial growth
G. R. Bell, M. Pristovsek, S. Tsukamoto, B. G. Orr, Y. Arakawa, N. Koguchi
Surf. Sci. 544(2-3) (2003) 234–240
Ga-rich GaAs(0 0 1) surfaces observed by STM during high-temperature annealing in MBE
S. Tsukamoto, M. Pristovsek, A. Ohtake, B. G. Orr, G. R. Bell, T. Ohno, N. Koguchi
J. Crystal Growth 251 (2003) 46–50
Influence of the reconstruction of GaAs (0 0 1) on the electro-optical bulk properties
M. Pristovsek, S. Tsukamoto, B. Han, J.-T. Zettler, , W. Richter
J. Crystal Growth 248 (2003) 254–258
Structure of Ga-stabilized GaAs(0 0 1) surfaces at high temperatures
A. Ohtake, S. Tsukamoto, M. Pristovsek, N. Koguchi
Appl. Surf. Sci. 212-213 (2003) 146–150
Novel Organopalladium Material Formed on a Sulfur-Terminated GaAs(001) Surface
M. Arisawa, S. Tsukamoto, M. Shimoda, M. Pristovsek, A. Nishida
Jpn. J. Appl. Phys. 41(11A) (2002) L1197–L1199
Structure analysis of the Ga-stabilized GaAs(001) – c(8×2) surface at high temperatures
A. Ohtake, S. Tsukamoto, M. Pristovsek, N. Koguchi, M. Ozeki
Phys. Rev. B 65 (2002) 233311
Real-time calibration of wafer temperature and growth rate and composition by optical in-situ techniques during AlxGa1-xAs growth in MOVPE
K. Haberland, A. Kaluza, M. Zorn, M. Pristovsek, H. Hardtdegen, M. Weyers, J.-T. Zettler, W. Richter
J. Crystal Growth 240 (2002) 87–97
In-situ Determination of the Carrier Concentration of (001) GaAs by Reflectance Anisotropy Spectroscopy
M. Pristovsek, S. Tsukamoto, N. Koguchi, B. Han, K. Haberland, J.-T. Zettler, W. Richter, M. Zorn, M. Weyers
phys. stat. sol. (a) 188 (2001) 1423–1429
In-situ Investigation of GaAs (001) Intrinsic Carbon p-Doping in Metal-organic Vapour Phase Epitaxy
M. Pristovsek, B. Han, J.-T. Zettler, W. Richter
J. Crystal Growth 221 (2000) 149–155
Surface structure of ordered InGaP(001): The (2×4) reconstruction
P. Vogt, K. Lüdge, M. Zorn, M. Pristovsek, W. Braun, W. Richter, N. Esser
Phys. Rev. B 62(19) (2000) 12601–12604
Atomic structure and composition of the (2×4) reconstruction of InGaP(001)
P. Vogt, K. Lüdge, M. Zorn, M. Pristovsek, W. Braun, W. Richter, N. Esser
J. Vac. Sci. Technol. B 18 (2000) 2210–2214
Diffusion of Ga on GaAs (113) in [1-10] direction in MOVPE
M. Pristovsek, F. Poser, J.-T. Zettler, W. Richter
Appl. Surf Sci. 166 (2000) 433–436
Dynamic Study of the Surfaces of (001) Gallium Arsenide in Metal-organic Vapour Phase Epitaxy during Arsenic Desorption
M. Pristovsek, T. Trepk, M. Klein, J.-T. Zettler, W. Richter
J. Appl. Phys. 87 (2000) 1245–1250
GaP(001) and InP(001): Reflectance Anisotropy and Surface Geometry
N. Esser, W. Schmidt, J. Bernholc, A. Frisch, P. Vogt, M. Zorn, M. Pristovsek, W. Richter, F. Bechstedt, T. Hannappel, S. Visbeck
J. Vac. Sci. Technol. B 17 (1999) 1691–1696
The (2×4) GaP(001) Surface: Atomic Structure and Optical Anisotropy
A. Frisch, W. Schmidt, J. Bernholc, M. Pristovsek, N. Esser, W. Richter
Phys. Rev. B 60(4) (1999) 2488–2494
Spectroscopic process sensors in MOVPE device production
K. Haberland, P. Kurpas, M. Pristovsek, J.-T. Zettler, M. Weyers, W. Richter
Appl. Phys. A 68 (1999) 309–313
Comparative study of the GaAs (113) and (115) and (001) and (11-5) and (11-3) and and (110) surfaces by atomic force microscopy and low energy electron diffraction and and reflectance anisotropy spectroscopy
M. Pristovsek, H. Menhal, T. Schmidtling, N. Esser, W. Richter
Microelectronics Journal 30 (1999) 449–453
In situ characterization of GaAs growth in nitrogen atmosphere during MOVPE: a comparison to hydrogen atmosphere
H. Hardtdegen, M. Pristovsek, H. Menhal, J.-T. Zettler, W. Richter, D. Schmitz
J. Crystal Growth 195 (1998) 211–216
Response of the surface dielectric function to dynamic surfaces modifications: application of reflectance anisotropy spectroscopy and spectroscopic ellipsometry
J.-T. Zettler, M. Pristovsek, T. Trepk, A. Shkrebtii, E. Steimetz, M. Zorn, W. Richter
Thin Solid Films 313-314 (1998) 537–543
Real-time monitoring of MOVPE device growth by reflectance anisotropy spectroscopy and related optical techniques
J.-T. Zettler, K. Haberland, M. Zorn, M. Pristovsek, W. Richter, P. Kurpas, , M. Weyers
J. Crystal Growth 195 (1998) 151–162
Reconstructions of the GaAs (113) surface
M. Pristovsek, H. Menhal, T. Wehnert, J.-T. Zettler, T. Schmidtling, N. Esser, W. Richter, C. Setzer, J. Platen, K. Jacobi
J. Crystal Growth 195 (1998) 1–5
Photoluminescence scanning nearfield optical microscopy on III-V quantum dots
D. Pahlke, F. Poser, E. Steimetz, M. Pristovsek, N. Esser, W. Richter
phys. stat. sol. (a) 170 (1998) 401
Atomic structure of InP(001)-(2×4): A dimer reconstruction
W. Schmidt, F. Bechstedt, N. Esser, M. Pristovsek, C. Schultz, W. Richter
Phys. Rev. B. 57(23) (1998) 14596–14599
Ellipsometric and Reflectance-Anisotropy Measurements on Rotating Samples
K. Haberland, O. Hunderi, M. Pristovsek, J.-T. Zettler, W. Richter
Thin Solid Films 313-314 (1998) 620–624
Optical anisotropies of InP(001) surfaces
C. Goletti, N. Esser, U. Resch-Esser, V. Wagner, J. Foeller, M. Pristovsek, W. Richter
J. Appl. Phys. 81 (1997) 3611–3615
Structure of InP (001) surfaces prepared by decapping and by ion bombardment and annealing
D. Pahlke, J. Kinsky, C. Schultz, M. Pristovsek, M. Zorn, N. Esser, W. Richter
Phys. Rev. B 56 (1997) R1661–R1663
In-situ surface passivation of III-V-semiconductors in MOVPE by amorphous As and P layers
K. Knorr, M. Pristovsek, U. Resch-Esser, N. Esser, M. Zorn, W. Richter
J. Crystal Growth 170 (1997) 230–236
Semiconductor Characterization – Present Status and Future Needs
J.-T. Zettler, W. Richter, K. Ploska, M. Zorn, J. Rumberg, C. Meyne, M. Pristovsek
(AIP Press Woodbury NY, 1996) 537–543
Scanning-tunneling-microscopy study of InP (001) surfaces prepared by UHV decapping of MOVPE-grown samples
N. Esser, U. Resch-Esser, M. Pristovsek, W. Richter
Phys. Rev. B 53(20) (1996) R13257–R13259
Growth oscillations with monolayer periodicity monitored by ellipsometry during MOVPE of GaAs (001)
J.-T. Zettler, T. Wethkamp, M. Zorn, M. Pristovsek, C. Meyne, K. Ploska, W. Richer
Appl. Phys. Lett. 67 (1995) 3783–3785
Metalorganic Vapour Phase Epitaxial Growth on Vicinal GaAs (001) Surfaces Studied by Reflectance Anisotropy Spectroscopy
K. Ploska, M. Pristovsek, W. Richter, J. Jönsson, I. Kamiya, J.-T. Zettler
phys. stat. sol. (a) 152 (1995) 49–59
Reflectance Anisotropy Oscillations during MOCVD and MBE Growth of GaAs (001)
J.-T. Zettler, J. Rumberg, K. Ploska, K. Stahrenberg, M. Pristovsek, W. Richter, M. Wassermeier, P. Schützendüwe, L. Däweritz
phys. stat. sol. (a) 152 (1995) 35–47
Surface processes before and during growth of GaAs(001)
K. Ploska, J.-T. Zettler, W. Richter, J. Jönsson, F. Reinhardt, J. Rumberg, M. Pristovsek, M. Zorn, D. Westwood, R. H. Williams
J. Crystal Growth 145 (1994) 44–52
Efficiency of arsenic and phosphorous precursors investigated by reflectance anisotropy spectroscopy
P. Kurpas, J. Jönsson, W. Richter, D. Gutsche, M. Pristovsek, M. Zorn
J. Crystal Growth 145 (1994) 36–43